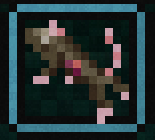 "I'll only eat it raw if I have to."
— "You" when looking at it.
Rats can be found in The Basement and in The City and can be caught by aiming down with your handgun and shooting them. You can eat them raw or cook them to make a Fried Rat. Eating it raw will negatively affect your psyche.
Psycho +200
Health +30
Food +30